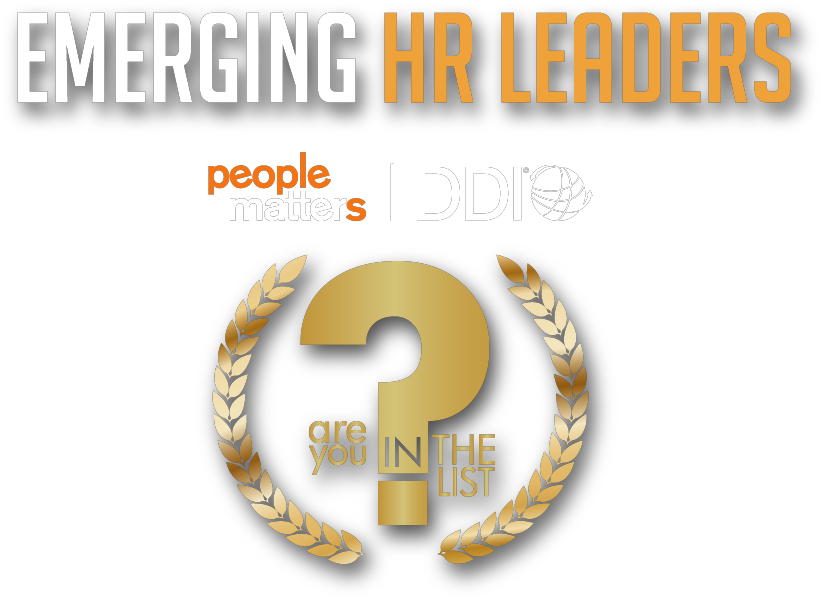 Applications are closed now!
ABOUT "ARE YOU IN THE LIST?"
India's first initiative to identify Emerging Future HR leaders is back again!
After successfully sifting out the crème de la crème of young HR leaders for the last 6 years – People Matters initiative in association with DDI — "Are you in the list 2018" is back with yet another intense qualifying application process, with a series of assessments and a competitive race to find today's emerging leaders in HR. A platform for HR managers to showcase their potential and get recognized as the "Emerging Future HR Leaders".
Applications are opening soon!
If you are a young HR leader or aspire to be one, and if the below criteria mirrors you – Be a part of the list!
Age group of 26- 35
Minimum work experience of 3 years
Working in HR role as on date
If you have it in you and want to better yourself, compete to be amongst the chosen "Emerging Future HR Leaders&rdqu" in India, come join the list!
Discalimer:
Associating partners / sponsors employees, relatives, friends and family to declare if they are an acquaintance to any sponsor.
Deadlines decided will be at the sole discretion of the organizers, no extension will be provided for any circumstances / expectations, technical / non technical
APPLICATION PROCESS

STAGE 1
1A (Online Application): Candidates register online by submitting their details and by following the online application process.
1B (Application Form): Applicants would be taking the Online Application test
4th Apr – 11th May
Result announcement: 11th May

STAGE 2
Cognitive Ability test: DDI's Cognitive ability test will follow for eligible candidate which is a tool for online assessment of one's cognitive ability as it relates to success on the job. The qualified candidates will proceed to stage 3 of the Awards process.
12th May – 21st May
Result announcement: 22nd May

STAGE 3
Leadership Assessment (Manager Ready): The shortlisted candidates undergo DDI's online Leadership Assessment. This is a tool to identify the candidate's readiness to take managerial roles. The top candidates from this assessment will further proceed to stage 4 of the Awards process.
21st May – 28th May
Result announcement: 7th June

STAGE 4
4A (Video Interview): The shortlisted candidates will be required to record their video, answering pre-determined questions on video platform to assess whether the applicants display the required competencies for which the automated interviewing process is used.
7th June – 12th June
4B (Volunteering for a cause): The shortlisted candidates will have to volunteer for a cause of their personal choice via Goodera Employee Volunteering Platform. Candidates will have to submit an 800-1000 words write-up on their volunteering experience which will be considered by jury while evaluating the candidate.
11th June – 30th June

STAGE 5
Business Case Study: In order to further assess skills required to be a successful HR Leader, DDI will evaluate selected individuals on their business acumen by conducting a mini-assessment using a business case study method. This stage may also include a personality inventory which measures attributes or tendencies that can either enhance or derail one's leadership effectiveness.
29th June – 11th July
Result announcement: 13th July

STAGE 6
Face off with the Panel: This stage will sight a one-on-one meeting of the Jury with the finalists which will lead to identifying the Emerging Future HR Leaders of 2018.
16th July – 18th July

Awards & Recognition
The selected Top Emerging Future HR Leaders will be recognized in a formal event in the presence of HR veterans of the country.
2nd August
Awards Night
The much-awaited Emerging HR Leaders List will be unveiled on 2nd August in a glittering award ceremony. The "Are you In The List 2018" process is reaching its closure and we are in the last leg of identifying the 7th batch of young HR leaders in India. This is an evening of celebration of the HR function.
This years process started in April and saw more than 2000 young HR leaders participating from across the country, undergoing 6 stages of assessment and interviews to make it to the final list of Emerging Leaders in the HR space.
The special evening of celebration will have the keynote address by Shane Watson Former Australian Cricket Captain.