Jury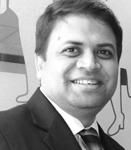 Pankaj Bansal
Co-founder & Chief Executive Officer
People Strong
In his role as CEO at People Strong, Mr. Bansal is responsible for planning and building a strong footprint in India and international market. He is also responsible for building strategic partnership and direct financial growth of People Strong and has been responsible for overall Business growth of the organization since the inception in Jan 2006.
Mr. Bansal a Director (non - executive) at Withya Group, previously co-founded Withya Direct; a silicon valley funded company focusing on digital media market in India. Earlier, he was with Aricent (erstwhile Hughes Software Systems) as a part of founding team of its BPO division. He was responsible for various roles like e-learning, Training, HR Systems and Processes (Automation), SAP (ERP) implementation, Compensation etc.
Mr. Bansal is on the national board of National HRD Network as the chairman of its young minds council where he is spearheading its web 2.0 initiatives called HR Talks. Previously he was Vice President of National HRD Networks' Delhi Chapter. He is also an active board member of CII National Committee on Skills & Human Resources 2010 -10.
He has a Masters' Degree in HR Management from University of Pune and a Bachelors' degree in Entrepreneurship from Delhi University.